Eddie's Hints
I have mailed almost 4 million dollars in value worth of coupons in the last 15 years for the USS Horizon and OCP so I have had a little time to practice. I have found a few short cuts through the years. I would like to share them with you.

Processing At Home Tips
I stack the sheets if they are exactly the same on both sides. (Such as the exact same Sunday newspaper insert.) I can cut several at one time that way. Be careful not to cut off part of the coupon on the sheets under the top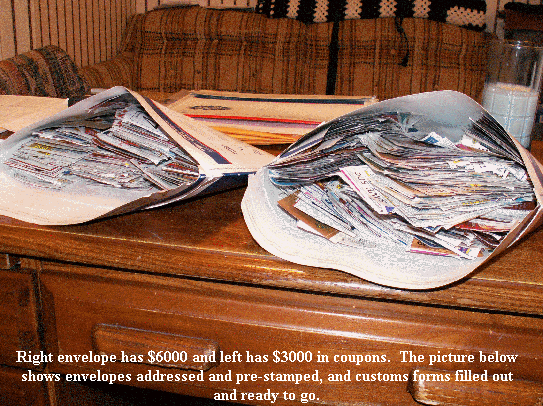 one. This requires perfect alignment and a steady hand. Don't get frustrated at first. It took me a while but I am pretty fast at this now. This also allows me to cut up to 10 sheets at a time. You will need a very good pair of scissors.
It also allows me to total as many as ten coupons at a time. When I do this I spread the sheets out on the kitchen counter. I will stack as many as I feel I can do at a time. I will then cut them and leave them on the counter right where I cut them. When I am finished cutting, I will go back and total them in stacks of 5 or 10 or whatever I cut. I can do the work with about 50% time savings. Finally, I will go back and stack the coupons by size. I find that if I can fill the box or envelope with neat stacks then I can get more in with less wasted space. With Priority Mail that becomes a bonus. The stuff pouch or box allows as much as you can put in it for a flat rate fee.
Mailing Tips

I use the flat rate Priority Mailers because I get the best price. You can put as much as you want in one. I stack the coupons by size and carefully load the envelope to ensure no air pockets or wasted space is left. I stuff it full. Naturally I only place "Food" OR "Non-Food" in an envelope. I try to mail one envelope of each to the base at the same time. I can get about $3,000.00 in one envelope and sometimes as much as $5,000.00 in one. You need tape to close it, but tape is cheaper than postage. Be very sure of the requirements your local post office branch has for tape before you use this method.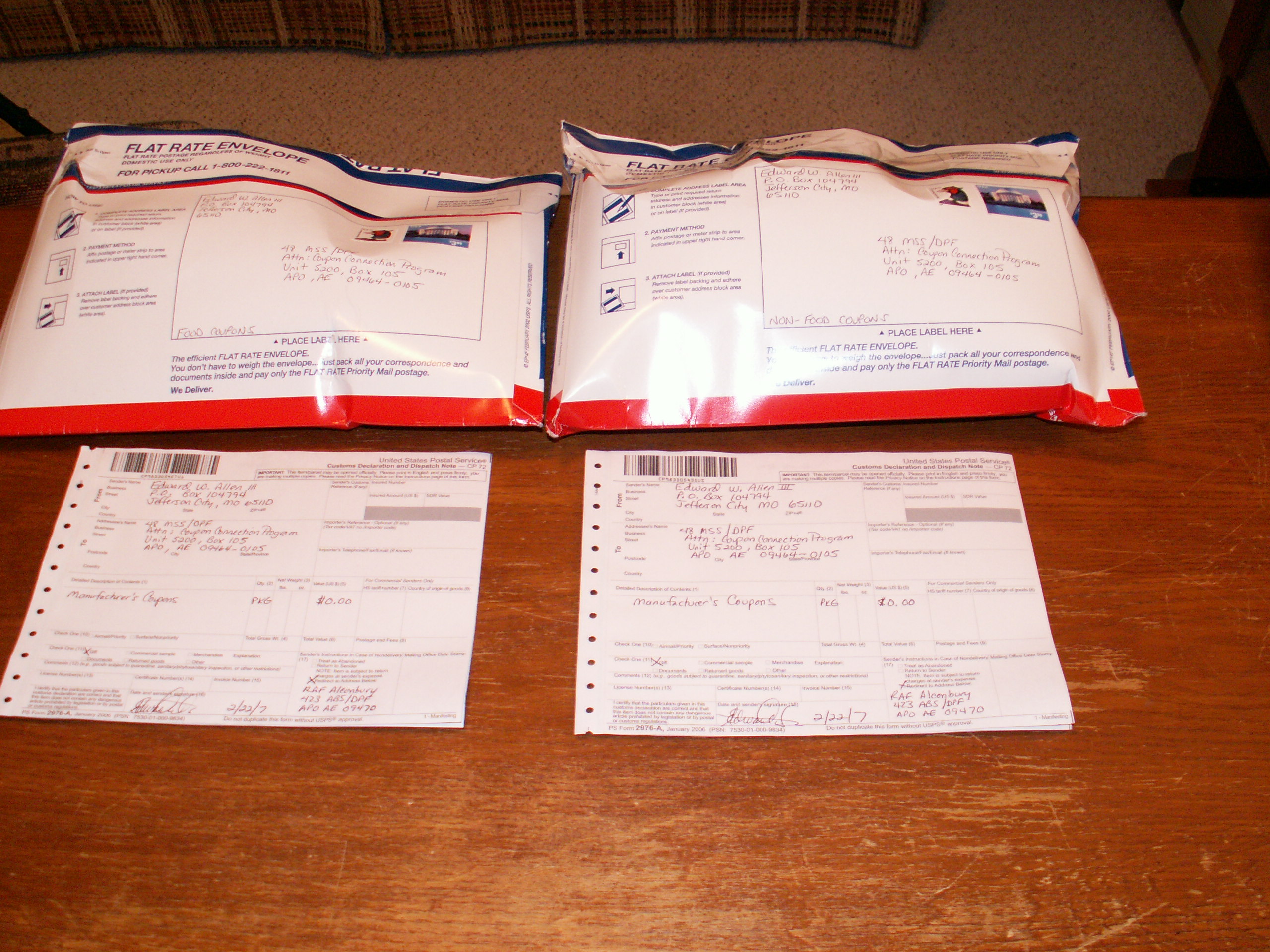 I have a stack of envelopes, postage stamps for Priority Mail and customs forms at my house. I fill in addresses on the envelope and the entire customs form at home. I place the postage on the envelope at home. (Note: Do not put the postage where the tape must go.) I then rubber band the envelope shut with several rubber bands if I know they plan to look into the envelope. The rubber bands retard my spilling the coupons on the way to the Post Office. I even have one of their mail tubs to stack the envelopes in.

At the Post Office I show the clerk what is in the envelope (If they care today) and the clerk and I tape the envelope shut together. (At this point they know me well and I can close and tape at home.) Remember, tape is cheaper than Postage. Discuss this with your mail clerks to see if they will let you tape them closed at home. If you have pre-done the paperwork and postage and they do not need to look into the envelope, then you can just drop your mail bin off at the counter and you are done.
Other Tips

I do not mail partial envelopes. I have a lot of coupons going through (approx. $25,000 a month) so I just save back partials for the next mailing. Why waste the postage. It is best if you can ship once every month or two and do larger mailings. This minimizes trips to the post office, allows for the use of the Priority Mail Pouches, and saves money all the way around.

I have a special pair of good scissors to cut the coupons with. Cheap scissors tear the coupons and end up wasting a lot of time. The extra two dollars are worth it.

I also have a place set aside to cut. For coupons that I intend to stack and cut, I work at the kitchen counters. I stack one type of booklet at a time around the counters. I then go around again and cut and leave the coupons in place on the counter. I go back one more time and total by size of coupon stacking them as I total. These "by size" stacks fit nicely into the Priority Mailer.